Quick contact form

All fields are required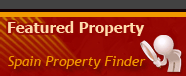 For Sale
Villa in Fuente-Alamo de Murcia
298,400 Euros
find out more »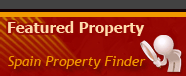 For Sale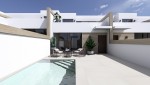 Villa in Benijofar
265,000 Euros
find out more »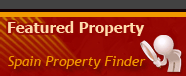 For Sale
Villa in Ciudad Quesada
240,000 Euros
find out more »
Planning on buying property in Spain?
Then you've found the right place...
At Spain Property Finder we have properties for sale in Alicante, Almeria, Balearic Islands, Cadiz, Granada, Ibiza, Malaga, Mallorca and Murcia. That's right, we cover the all the main areas of the Spanish coast line and also the islands of Ibiza and Mallorca.

We're sure to have it...
With over 1650 properties for sale in Spain and a portfolio that includes Apartments, Cave Houses, Commercials, Country Houses, Duplexes, Land, NO ADAPTER FOUNDs, Penthouses, Town Houses, Villas and Village Houses. We're sure you'll find a selection of properties that suits your requirements.

We're different — No hard sell...
Spain Property Finder is refreshingly different to other estate agents you may have come across or heard about. We're not pushy, we won't take you to properties that don't meet your needs or to locations where you don't want to live and as for hard sell that's not our thing at all. At Spain Property Finder you'll see that we listen and will only show you properties that will match your requirements.
All our offices & partners work in the same way. We will send you the best properties we have available matching your criteria, if you then view and like what you see then we hope you will buy. At Spain Property Finder we know that no amount of hard sell is going to part any client with their hard earned money for property they aren't sure about or don't like. We aren't timeshare sales, we are professionals selling the best property deals in Spain.
So whether you are looking to retire abroad, buy a holiday home or you are simply looking for a good investment, Spain Property Finder can help you to achieve your aims and dreams with our range of properties in all the main destinations of Spain.